Industry and Company News
---
Posted September 30th, 2014 by GreenTech Energy Services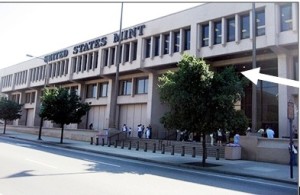 GreenTech Energy Services was hired to do a retrofit of the lighting at the U.S. Mint in Philadelphia. Most of the exterior lights were replaced by LED, saving a significant amount of energy without adversely affecting the level or quality of light.  For example, in the overhang along the front of the building (see arrow in photo above), fixtures with 500-watt incandescent bulbs were retrofit with 18-watt LED 38 PARs.  The new LEDs shed a crisp white light that will improve safety and security as well as aesthetics, while reducing wattage by 482 watts per fixture.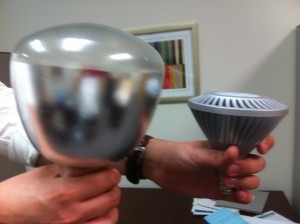 ---
Posted September 30th, 2014 by GreenTech Energy Services
The lighting retrofit that GreenTech Energy Services installed in Philadelphia City Hall this year included an upgrade of the lights behind the historic clock tower, as shown in this clip from CBS news:


---
Posted July 17th, 2014 by GreenTech Energy Services
The U.S. Department of Energy has released a report on the cost-effectiveness of linear LED lamps. The report is based on a study that compared a two-lamp troffer using LED lamps (38W total power draw) and fluorescent lamps (51W total power draw) over a 10-year period. Factors taken into consideration include initial investment, energy use and lifetime replacement needs. Variables included the LED system cost (ranging from $40 to $120), the annual operating hours (from 2000 to 4,000 hours), the installation time (from 15 to 30 minutes) and electricity rates (from $.06 to $.24).In general, while their initial cost premium remains high, linear LED lamps are more likely to be cost-effective when electric utility rates are higher than average, hours of operation are long, and installation time is shorter.
Linear LED lamps may also be a good solution to difficult maintenance issues, as was the case at the auditorium of the Eisenhower Middle School at the Norristown (PA) School District (see photo below). The existing linear fluorescent fixtures needed frequent maintenance and replacement but the fixtures could only be accessed by climbing up three levels via ladders and a catwalk. GreenTech Energy Services was hired to retrofit the fixtures with LED tubes.  The initial cost of the lamps was slightly higher than fluorescents would have been, but they provide much longer life and significant energy savings, while requiring little or no maintenance.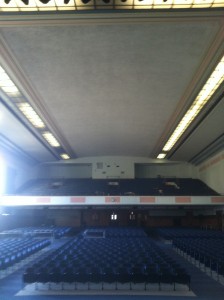 LED troffers were also the answer to a challenge at the Mussleman School, another middle school in the Norristown district. The existing lights in the hallway needed an upgrade, but the only thing that would fit in the ceilings were LED flat panels. These sleek fixtures are a fraction of the thickness of traditional troffers, yet they provide a clean, white light that easily meets required light levels.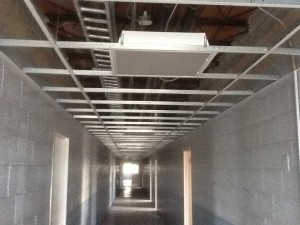 ---
Posted July 17th, 2014 by GreenTech Energy Services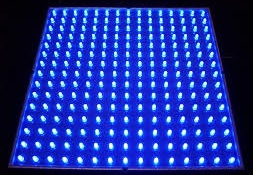 As a relative newcomer to the lighting industry, LEDs are not only being studied for their efficacy and cost-effectiveness, but also their impact on health. ANSES, the French Agency for Food, Environmental and Occupational Health & Safety, has published a report claiming that risks have been identified concerning the use of certain LED lamps. Blue light, says the report, causes a photochemical risk to the eye that is cumulative. In other words, the danger exists even in low doses, if these doses are repeated over long periods of time. This is particularly true for children, for workers likely to be exposed to high-intensity lighting, and to populations that are already light-sensitive.
The U.S. Department of Energy, however, has issued no such warnings. According to a DOE fact sheet, LEDs are inherently "neither more hazardous nor more beneficial to human health than any other type of light source." The fact sheet does note, however, that "light which is beneficial during the day may be harmful at night." A study at Harvard Medical School appears to support this. Blue wavelengths—which are beneficial during daylight hours because they boost attention, reaction times, and mood—seem to be the most disruptive at night, say the Harvard researchers. Exposure to light suppresses the secretion of melatonin, a hormone that influences circadian rhythms. Even low-level light can affect people's ability to sleep, and that has been linked to increased risk for depression, as well as diabetes and cardiovascular problems. The effects have become more noticeable with the proliferation of electronics with screens, as well as energy-efficient lighting, which increase our exposure to blue wavelengths after sundown.
---
Posted June 24th, 2014 by GreenTech Energy Services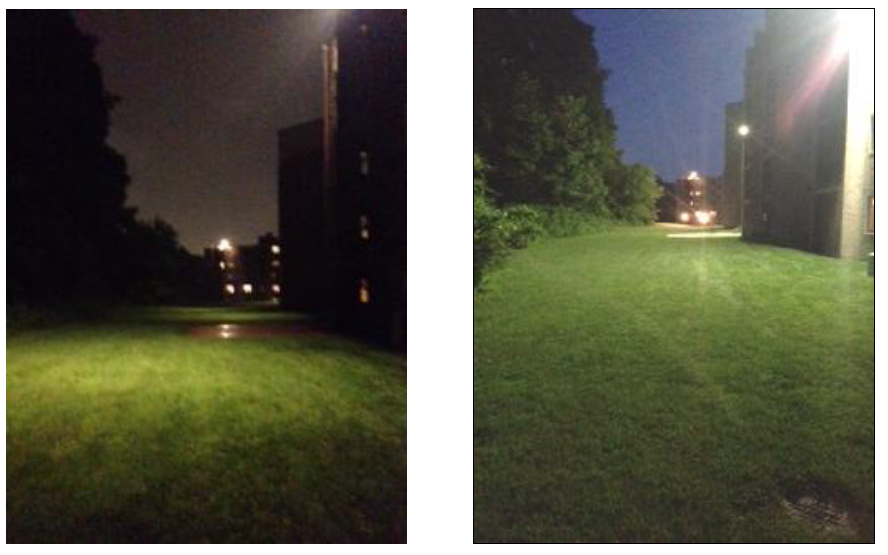 Exterior light levels at the Holy Redeemer Lafayette Center, a retirement community in Northeast Philadelphia, were so low that they raised the risk of break-ins at the center. GreenTech was hired to replace obsolete metal halide, high pressure sodium and incandescent fixtures with new LED fixtures, and to lower the wall packs at the top of the building to a level where they would shed more light on the grounds in back of the building. In the entranceway, 175-watt metal halide lights were upgraded to 33-watt LED flat panels. In addition to enhancing safety and security, the retrofit also significantly cut energy consumption and utility costs.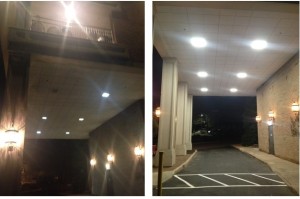 ---
Posted June 24th, 2014 by GreenTech Energy Services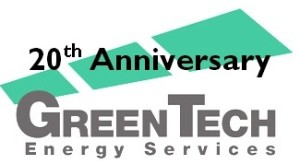 We are very proud to announce that GreenTech Energy Services is celebrating two decades in business. This milestone was made possible through the hard work and expertise of our employees, and the commitment of our company to its mission: to help our clients reduce energy usage, lower utility costs, and improve their work and learning environments with better quality lighting.
When GreenTech was founded in 1994, the energy services industry was in its infancy. We began by retrofitting old T12 fluorescents with new T8s, replacing old HID fixtures with T5's, and installing basic motion-activated sensors. Since then, the development of LED, advanced control systems, and other new technology has broadened the range of options we're able to offer. We can help customers make deeper cuts in their energy consumption, reap better savings on their utility bills, and greatly enhance the quality of their lighting. At the same time, an increase in government and utility incentives for implementing energy efficiency measures has shortened the payback for these projects.
We are excited to see what the future holds for energy-efficient lighting, and hope to bring new developments to our customers for many years to come.
---
Posted May 28th, 2014 by GreenTech Energy Services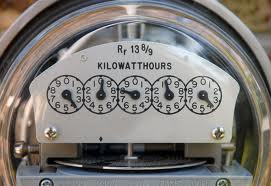 A number of utility-run energy efficiency programs for small businesses restrict eligibility not only by monthly energy consumption but also by peak demand.  To understand the difference between the two, you have to start with the difference between kW, which measures the power being produced or consumed at any given instant of time, and kWh, which expresses a total amount of power produced or consumed over time.
For example, one 100-watt light bulb burning for 10 hours consumes 1,000 watt-hours or 1 kWh. But at any given time, it requires or "demands" 100 watts or 0.1 kW from the utility.  Compare this to ten 100-watt bulbs burning for one hour. At the end of the day, they will also have consumed 1000 watt-hours or 1 kWh, but at any given time, they require or "demand" 1000 watts or 1 kW from the utility. So the utility has to be ready to provide that 1kW of energy at any moment during the month.
In other words, two facilities could consume the same number of kWh by the end of the month, but have different "peak demands." And this is why commercial and industrial customers are often billed separately for their hourly energy consumption patterns and their peak energy demand.
Utilities often use a meter that records the power use during either a 15- or 30-minute time window. The average power used during that window is used to calculate demand. Since it's usually higher during the day than at night, and higher during either the summer or winter depending on location, the metering system tracks the highest usage anytime during the month under the appropriate time windows.
---
Posted May 2nd, 2014 by GreenTech Energy Services
Aquatrols, a leading provider of technologies used to optimize soil-water-plant interactions, hired GreenTech Energy Services to retrofit the lighting in its headquarters in Paulsboro, NJ.  GreenTech replaced older T8 fluorescent lamps in offices, labs, storage and other rooms with next-generation T8s and reflectors. In the warehouse, 400-watt metal halide high bays were replaced by six-lamp T5 fluorescent high bays.  The retrofit provided significant energy savings and completely changed the look of the warehouse (see before and after photos below). Best of all, the project was subsidized by New Jersey Clean Energy under its Direct Install Program, which pays 70% of the cost of energy projects in buildings with a monthly peak demand of 200 kW or less.
---
Posted May 1st, 2014 by GreenTech Energy Services
An increasing number of LED products are becoming available for general office applications, to replace traditional fluorescent troffers.  They are available in 2×2, 2×4 and 1×4 sizes, many are DLC-listed, and some exceed the efficacy of high-efficiency fluorescent systems. Their cost is still high compared to fluorescent fixtures, but their long lamp life may provide enough operational savings to make up for that over time. They're available in a range of color temperatures, they have a high color-rendering index, and they're dimmable, providing the lights are compatible with the dimming controls.
At GreenTech Energy Services, we recently conducted an experiment in our own hallways, where existing fixtures were four-lamp T8 troffers. Gutting the fixtures, we replaced the lamps and ballasts with LED recessed lay-in retrofit kits. Not having to replace the whole fixture saved time and money, but we got the look of brand new LEDs, with two-piece fluted lens, satin-finished aluminum centerpiece, and a CRI of over 80. See the results below.
---
Posted April 28th, 2014 by GreenTech Energy Services
As part of an energy efficiency project at the Williamsport Area School District, GreenTech Energy Services retrofit the lights in the Andrew Jackson Elementary School library. The old lighting consisted of can fixtures hanging by wires from the ceiling, each containing two 275-watt metal halide lamps. The lamps and ballast in each fixture consumed a total of 405 watts of energy, and shed a yellowish uneven light that left areas of the room in shadow. They were replaced by new 2 x 2 LED flat panels that produce a white, even light and are nearly maintenance-free (see before-and-after photos below). Typically used to replace fluorescent fixtures, these state-of-the-art panels are only two inches thick, so they lay nearly flush against the ceiling. They provide a long life, require very little maintenance, and are constructed without hazardous materials. Best of all, they only consume 36 watts each, compared to the metal halide's 405 watts.
The library is just one small part of a much larger project that involves classrooms, offices, gyms, and other areas in multiple buildings throughout the district, so it's easy to see how the entire project will significantly slash the district's energy consumption and utility bills.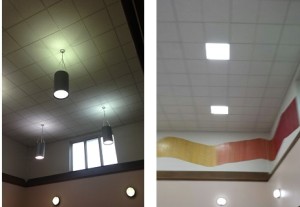 ---